FutureStep™ workplace savings plan
Simple, cost-effective plan for small and mid-size businesses
FutureStep™ is a group Registered Retirement Savings Plan (RRSP) with an optional Deferred Profit Sharing Plan (DPSP).
Learn more about futurestep (tm)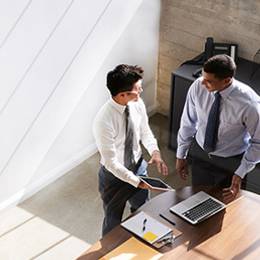 *Available in all provinces outside of Quebec
Consolidated pension administration at Manulife
Combine your DB and DC plan administration
Administer your DB and DC Registered Pension Plans together—saving you time and money.
Learn more about this plan
For Quebec and Manitoba plan sponsors
Simplified pension/money purchase plan
Helps plan members grow their savings, often with lower investment management fees than individual accounts.
Learn more about SPP/SMPPP