Savings plans
RRSP
Registered retirement savings plan (RRSP)
Help your plan members save for retirement
NRSP
Non-registered savings plan
Save beyond registered limits and for short term needs
TFSA
Group tax-free savings account (TFSA)
Help plan members save for their goals
DPSP
Deferred profit sharing plan (DPSP)
Invite plan members to participate in your company's growth
FutureStep™ workplace savings plan
Simple, cost-effective plan for small and mid-size businesses
FutureStep™ is a group Registered Retirement Savings Plan (RRSP) with an optional Deferred Profit Sharing Plan (DPSP).
Learn more about futurestep (tm)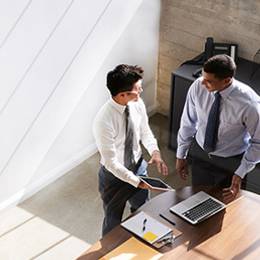 Pension plans
DB RPP
Defined benefit registered pension plan (DB RPP)
Reward your plan members by contributing to their retirement income
DC RPP
Defined contribution registered pension plan (DC RPP)
A structured option to help plan members save for retirement
PRPP*
Pooled registered pension plan (PRPP)
A simple, affordable and quick-to-set-up for federally regulated employers and self-employed individuals.
*Available in all provinces outside of Quebec
Consolidated pension administration at Manulife
Combine your DB and DC plan administration
Administer your DB and DC Registered Pension Plans together—saving you time and money.
Learn more about this plan
Custom plans
VRSP
Voluntary retirement savings plan (VRSP)
A simplified Defined Contribution Pension Plan that is designed for small and medium-sized businesses.
The Manulife Personal Plan™
When a plan member leaves or retires from your company, we can make the transition smoother
Custom group retirement and savings plan
Design your workplace savings plan with Manulife's complete range of solutions and services to meet your business and plan members' needs.
For Quebec and Manitoba plan sponsors
Simplified pension/money purchase plan
Helps plan members grow their savings, often with lower investment management fees than individual accounts.
Learn more about SPP/SMPPP