Get Out!
We spend a lot of time indoors. Whether it's the eight plus hours we put in at the office or evenings and weekends at home, most of us don't get a whole lot of sunshine and fresh air – especially in the colder winter months.
So what's the big deal? Well, it turns out Mom was right all along – going outside is good for us. We talked to outdoor aficionado Ian Miller, District Vice President, Manulife Investments, about the benefits of getting outdoors.
"I pretty much grew up outside, and I credit that for the healthy lifestyle I have now," he says. "My family went hiking, skiing, cycling, cross-country skiing, you name it – I love that we did it as a family."
Big benefits
It alleviates stress
Going for a walk in a natural setting is a proven stress-buster. "There's a freedom to being outside," says Miller. "You can go into your own little world and have some me time to do whatever you want. So the next time your brain is spinning with to-dos, take a walk. It's an escape that's as easy as walking out the door."
It's good for your health
Sunshine gives us Vitamin D, which we need to keep our bones and muscles healthy. And according to the Canadian Cancer Society, it may even reduce the risks of some kinds of cancer. (Don't forget the sunscreen, though – you only need a few minutes of unprotected exposure to get your daily D dose.)
It gives you energy
Feeling depleted? Instead of grabbing another cup of coffee, try stepping out the door. Breathing fresh air gives your body the oxygen it needs to function more efficiently. Plus, it's a great mood-booster.
It gets you moving
A lot of things we do outside involve movement. Whether it's walking, playing with the kids, going for a bike ride or learning to ski, the outdoors make exercise easy. What's more fun – running on a treadmill or taking a jog through a beautiful landscape?
It helps you think better
Going outside gives your brain the oxygen it needs to function better. Just eating your lunch with the sun on your face can refresh you and restore your focus. Need more quick stress-busting ideas? Try taking mini-breaks throughout the day.
It's a great way to feel more connected
Spending time outside helps you get to know your neighbourhood – and your neighbours. "I still discover hidden gems in my city even though I grew up here," says Miller. Plus, it's a great way to connect as a family.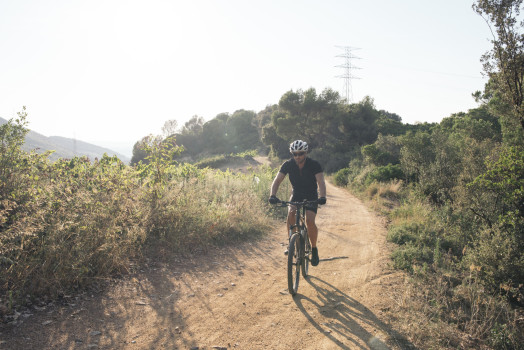 How can you increase your fresh-air time?
"Start in your own backyard," he says. "It doesn't need to be complicated. Getting fresh air can be as easy as taking a walk or sharing laughs with friends on a golf course. You just have to get out there."
Here are a few quick get-outside strategies that will have you breathing in the benefits:
Make it a routine. If you regularly schedule Saturday as the day your family goes for a hike or a bike ride, you'll build a habit that's good for everyone
Get off a stop or two early. Don't have hours to go for a hike? Incorporate a walk into your daily commute. If you drive in, deliberately park further away
Be a kid. Go tobogganing. Have a snowball fight. Try skateboarding. Build a sand castle. Just go outside and play
Take your workout outside. Don't limit your exercise to the gym. Go for a run in an interesting location. Try an outdoor boot camp. Go skating, cross-country skiing or snowshoeing
Multitask. Do you have a long conference call? Grab your cell phone and some earbuds and head outside, where you can walk and talk at the same time
Related articles