Vitality Active RewardsTM keep you motivated every week with a chance to win more Vitality PointsTM and gift cards to your favourite stores! When you meet your weekly targets through Standard or Advanced workouts, you can take a spin on the Vitality WheelTM for a chance to win points or gift cards.
Here's how it works
Get the app
Every Monday, through the Manulife Vitality app, you receive a new weekly personal Vitality PointsTM goal unique to you and your progress. The goal changes over time to help keep you motivated and on track.
Get active
Over the next seven days, earn points from Standard and Advanced workouts. Which count towards hitting your weekly target.
Spin
Once your goal is reached, you can immediately spin the Vitality Wheel? to win Vitality Points or gift cards. Every spin is win!
Important note: Light workouts do not count towards your Vitality Active Rewards.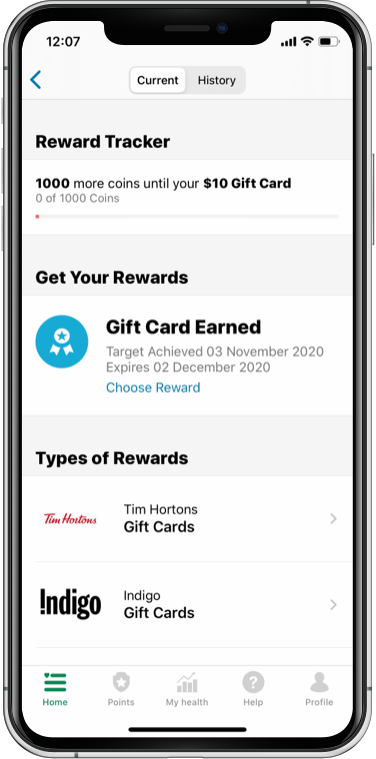 When you win Vitality Coins from a Vitality Wheel Spin, they are deposited into your Reward Tracker. You can earn anywhere from 50 to 300 Coins per spin. Once you reach 1,000 Coins, you can exchange the Coins for a gift card from one of our retailers.
Under the rewards tab, you can view the number of Coins you've banked. The Coins never expire.
View all rewards
You may be eligible to get an Apple watch for $0* when you become a Manulife Vitality member.
Find out more
* Conditions apply
Eligibility and availability for rewards may vary or change over time and are not guaranteed.