As a Manulife Vitality Plus member, you can now choose a membership plan that works for you at a special rate.
How it works
Log in to your Manulife Vitality account to access your unique and personalized discount code. 
 
Join GoodLife Fitness from the convenience of your home! Purchase your membership with your discount code via your Manulife Vitality account.
 
Earn points by checking in to GoodLife Fitness. Members can earn 20 points by checking in to GoodLife Fitness. Or, level up and get 30 Vitality Points by recording an Advanced workout.
Individual insurance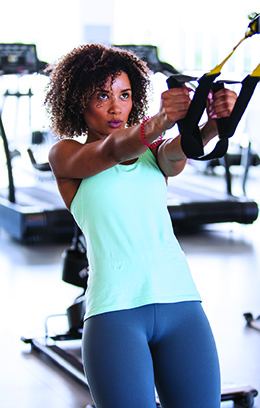 A gym membership at GoodLife Fitness gives you access to incredible programs, services and amenities that help you achieve your goals. With more than 200 gym locations and more 24-hour access than any other gym in Canada, you can work out whenever, and wherever, you want. Gym check-ins and Vitality Points™ made easy!
COVID-19 and The GoodLife Standard
As we work hard to keep our clubs open and safe, we are proud to share "The GoodLife Standard." This Standard is our commitment to the level of experience we will provide in our Clubs across the country which will ensure the safety and health of our Members and Associates going forward.
GoodLife Fitness wants to ensure Manulife Vitality Plus members reach their fitness goals!
GoodLife members have access to:
GoodLife Fitness® and GoodLife Fitness are trademarks or registered trademarks and are used under license.