How it works
As a Manulife Vitality Plus member, you receive one complimentary paramedical exam from ExamOne® once per program year. Based on your results, you can earn up to 4500 Vitality Points™.
Book an appointment using the Manulife Vitality online member booking system.
ExamOne will send your results to Manulife Vitality automatically.
Earn 500 Vitality Points for your test, and additional points for each result which is within range:

1000 points for BMI
1000 points for blood pressure
1000 points for glucose
1000 points for BhA1c Total/LCL cholesterol
Individual insurance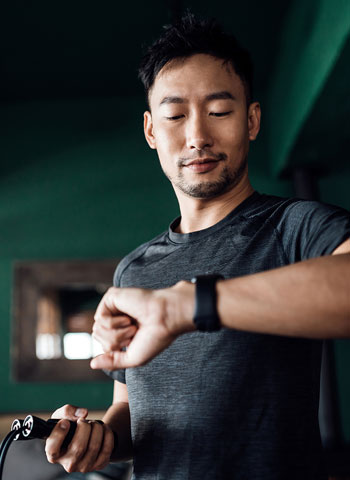 Manulife Vitality has partnered with ExamOne to bring you a free screening test to help you know more about your overall health, and potential health risks. The ExamOne and Manulife Vitality partnership offers a fast and convenient paramedical exam experience at your house – no need to go to the doctors.
About Vitality Checks
A Vitality Check is a biometric assessment that helps identify which areas of your health are strongest and which may need some work, as well as your risk for any potential health problems like diabetes or heart disease. It includes physical measurements to check your blood pressure and body mass index (BMI) and a blood draw to determine your blood glucose levels and total cholesterol.
ExamOne is a registered trademark of Quest Diagnostics.