As a Manulife 
Vitality
member, you get access to Fitbit devices 
at exclusive member prices.
Individual insurance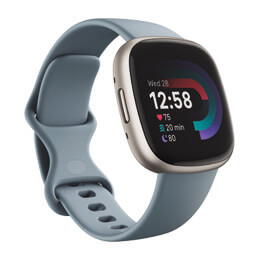 Fitbit helps people lead healthier, more active lives by empowering them with data, inspiration, and guidance to reach their goals.
With your Fitbit tracker or smartwatch, you have access to your daily step count, calories burned, and heart rate. With your Fitbit Premium membership, you also have exclusive access to hundreds of video workouts with engaging instructors, recipes, mindfulness techniques and meditations – plus tailored insights into heart health, sleep, stress, and more. Wherever you are in your journey, Fitbit offers tailored content relevant to your needs.

How it works
Once enrolled as a Manulife Vitality member you can:
Purchase your Fitbit devices
Visit Manulife's Vitality Fitbit store to select your Fitbit product. Your Manulife Vitality discount will be applied automaticaly.
Link your Fitbit devices to Vitality
Link your new Fitbit product to your Manulife Vitality account, online or in the app.
Get rewarded
Once you link your Fitbit device to your Manulife Vitality account, your activity data will automatically connect with your account to earn you physical activity Vitality PointsTM.
Important to note:
You can save up to 40% on eligible Fitbit devices and receive a free one-year subscription to Fitbit Premium when you enroll in Fitbit Care.
You must complete the Vitality Health ReviewTM to be eligible for this reward.
You can use the reward once per program year and can purchase up to three products.
Fitbit devices offer many benefits, including:
Each Fitbit smartwatch and tracker is built to inspire and inform your journey.

Eligibility for specific rewards or participation in specific reward programs may vary depending on your province of residence, Vitality Status™, and/or the type and in force status of Manulife Vitality insurance policy you hold. Rewards are subject to change without notice.
Insurance products are issued by The Manufacturers Life Insurance Company. The Vitality Group Inc., in association with The Manufacturers Life Insurance Company, provides the Manulife Vitality program. The Manulife Vitality program is available with select policies. Vitality, Vitality Points, and Vitality Health Review and Vitality Status are trademarks of Vitality Group International Inc. and is used by The Manufacturers Life Insurance Company and its affiliates under license. Manulife, Stylized M Design, and Manulife & Stylized M Design are trademarks of The Manufacturers Life Insurance Company and are used by it and by its affiliates under license. Accessible formats and communication supports are available upon request. Visit manulife.ca/accessibility for more information. © 2022 The Manufacturers Life Insurance Company. All rights reserved.
Fitbit and the Fitbit logo are trademarks or registered trademarks of Fitbit in the U.S. and other countries.