Manulife Vitality can help reduce COVID-19 risks
People engaged in healthy habits, such as regular physical activity and healthy eating, can lower the risk of COVID-19 related hospitalization and death, according to new global research from The Vitality Group. 
The Vitality Group provides the Vitality program in 26 markets around the world, including in Canada – partnering with Manulife to deliver Manulife Vitality. 
The research highlights how the Vitality program not only affects non-communicable diseases but has an impact on infectious diseases as well. 
It shows that healthy behaviours can help lower the risk of COVID-19 hospitalization by as much as 11% for those engaged in health promotion programs – such as Manulife Vitality. These habits also have shown to lower the risk of COVID-19 death by 37% compared to those not engaged in a similar health program.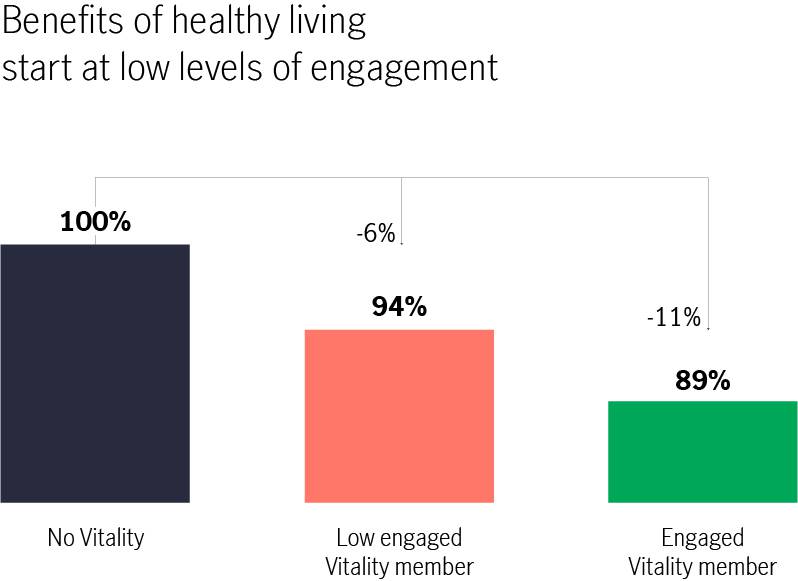 "This research is incredibly powerful," says Donna Carbell, Head of Group Benefits for Manulife Canada. "It shows that healthy habits incentivized by Manulife Vitality have profound immunological benefits – even for people with chronic conditions."
The advantages of healthy living start at low levels of engagement and continue to improve the more engaged a person is.
This Vitality Group research shows the same factors which the Vitality program has always tried to address impact infectious diseases such as Covid-19. 
Manulife Vitality draws on behavioural science principles and leading-edge health technology to target key behavioural risk factors – such as physical inactivity, unhealthy diets, smoking, and excess alcohol. These factors increase the risk for leading chronic conditions – such as respiratory diseases, diabetes, cancer, and cardiovascular disease.
People can help reduce the increased risks of chronic conditions and aging by adopting healthy behaviours. For example, according to The Vitality Group, a 65-year-old who is highly engaged in their health and wellness has a 22% lower mortality risk because of COVID-19 than an unengaged 45-year-old.
"This highlights the critical role the benefits industry must play in managing health risk," says Carbell. "Especially during a global pandemic, it's our job to make a significant contribution towards building more resilient communities."
The Vitality Group Inc., in association with The Manufacturers Life Insurance Company, provides the Manulife Vitality program. Vitality is a trademark of Vitality Group International, Inc., and are used by The Manufacturers Life Insurance Company and its affiliates under license. Manulife, Manulife & Stylized M Design, and Stylized M Design are trademarks of The Manufacturers Life Insurance Company, and are used by it, The Vitality Group and its affiliates under license. PO Box 2580, STN B Montreal QC H3B 5C6.