Many inappropriate claims happen because of misinformed or misled plan members, or dishonest service providers. Like other companies, we have the necessary procedures in place to handle a fraudulent event when it happens, but the key to success is avoiding getting to that point. Here at Manulife we take a different approach to fraud prevention – a positive and proactive one.
What's better than a cure? Prevention!
When it comes to protecting group benefits plans, the best prevention is fully engaged, well-informed plan members. It is our priority to help plan sponsors inform their plan members on how to use their plan properly. We also work closely with health care providers to build stronger relationships.
Helping you inform your plan members on how to use their plan, and working closely with health care providers is our priority. We do this to help protect your plan from misuse and abuse so you don't incur extra costs.
Here's where our proactive strategy really kicks in. It's not just engaged and aware plan members that can help protect your plan. We want to help our clients work with professional, ethical service providers. So, we've created an innovative new program, which identifies providers who demonstrate ethical business practices, providing an additional level of protection for your plan. Read more about our Trusted Provider Network
Fully engaged, well-informed plan members help protect your plan. It's important members understand that having a benefits plan is a privilege. And proper use of the program is an expectation not a request.
When misuse and abuse happens, we're on it! As you should expect from your group benefits provider, we use state of the art data analytics systems and processes, sophisticated claims systems and plan design to proactively and reactively protect your plan. We have a dedicated team of over 70 prevention and investigation experts, who work closely with law enforcement professionals to protect your plan and your plan members. And we prosecute those found responsible for fraudulent activity*.
*The Manulife team includes data scientists, fraud examiners, former police officers, pharmacy technicians and more!
Use these campaigns to engage your members and set clear expectations and standards for your company. You can empower your members to make smart decisions when submitting their claims, and promote a sense of ownership, encouraging them to protect your plan from risk.
Campaign
Description
English
French

Just say no

Encourages members to never pre-sign blank or inaccurate claim forms.

Email
Flyer
Poster
Email
Flyer
Poster

Fake name

Promotes the importance of never claiming under someone else's name.

Flyer
Poster
Flyer
Poster

Avoid temptation

Stresses that submitting false claims is a crime.

Flyer
Poster
Flyer
Poster

Claim mistake #1

Raise awareness of the three most commonly claimed products and services that aren't covered.
Recommend sharing these claim mistakes over a three-week period.
Week 1: Running shoes under orthotics.

Card
Poster
Card
Poster

Claim mistake #2

Week 2: Non-prescription sunglasses under vision care.

Card
Poster
Card
Poster

Claim mistake #3

Week 3: Personal training under physiotherapy.

Card
Poster
Card
Poster
Find out how Claim Smart you are by taking our fun online quiz!
You can help protect your plan from misuse by making smart choices when submitting a claim, and by encouraging your plan members to do the same.
Enter now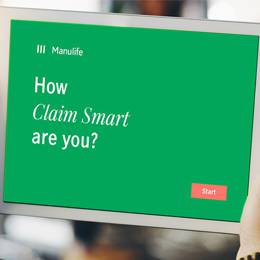 Canadian Life and Health Insurance Association
Visit fraudisfraud.ca to learn more about benefits fraud and what you can do to protect yourself.