Money paid directly into your bank account
One of the best things about Group benefits insurance is knowing some of your health and dental expenses are covered by your plan.

Manulife is shifting to a fully digital claims experience. The best part about it? You get your money back faster when you submit claims online and have direct deposit. 
Once we check your claim, we send you an email with details about how much money you'll receive in your account. 
To get the best possible experience, when you sign up on the plan member site, be sure to enter your email address and banking information.
Why direct deposit
Direct deposit puts the money right into your account. If you deposit your funds with a cheque, your bank might place a "hold" on the funds. Holds can last for up to five business days.


Money only goes in
Direct deposit moves money one way only: from us to you. We can't go into your account and take it back – ever. You always have control over who can access your account.


It's secure
At Manulife, we take privacy very seriously. You trust us to maintain your privacy. We secure your information. We know how important it is to protect your personal information from data breaches, fraud and theft.

Your banking information
To get your benefits claims paid directly into your bank account we need the same banking information you'd provide for direct payroll deposits:
Institution Number
Transit Number
Account Number
If you have a void cheque handy, follow the diagram to find that information.
If you don't have a void cheque, you can find your account number and transit number on a bank statement, online in your bank account, or in your banking app. The institution numbers for several banks are below, under 'Basic banking information'.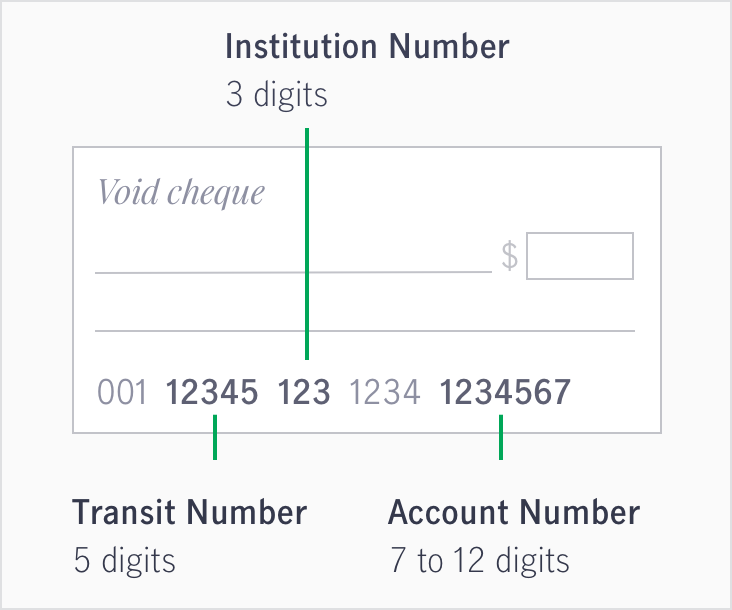 While Manulife has compiled this banking information for your convenience, if you run into any trouble we recommend you check with your bank.