If you develop a critical illness, you may need to take time off work, arrange additional care for your children, travel to specialized treatment centres and more. Help give yourself financial flexibility to do whatever it takes to get better with Lifecheque critical illness insurance.
Long term care
Option to convert permanent coverage to a long term care product after 20 years
Health Service Navigator
If you're insured with a Manulife critical illness policy or Synergy solution, you and your eligible dependants may be able to take advantage of Health Service Navigator's exclusive benefits, at no extra cost.
Learn more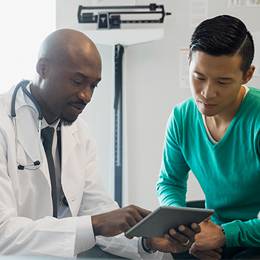 Health Service Navigator is offered through and is a registered trademark of Manulife (The Manufacturers Life Insurance Company). Health Service Navigator is powered by WorldCare Inc. WorldCare and The WorldCare Consortium are trademarks of WorldCare Limited, used under license.
Core plan:
You receive a tax-free, lump-sum benefit after satisfying any applicable waiting period if you're diagnosed with one of 24 critical illnesses
Receive a partial benefit (25% payout up to $50,000) if you are diagnosed with 1 of 6 early intervention conditions
Receive a monthly Care Benefit if you satisfy the criteria for functional dependence and need long term care 
Optional add-ons:
Get your eligible premiums back if you surrender your policy early, your policy expires or you die without making a claim
Help protect your children and provide them the opportunity to get their own critical illness insurance when they turn 21, without medical underwriting
If you become totally disabled, we waive the premiums 
Note: Above features are subject to terms and conditions
If you're ready to buy Lifecheque insurance or if you have questions, speak to your advisor. If you don't have an advisor, we can help you find one.
Contact a Manulife Representative by phone: 1-888-626-8543
Please be prepared to provide your policy number, full name, address, date of birth, diagnosis and date of diagnosis. (Please allow 2-5 business days for claims forms to be sent to you.)