Download the Manulife Mobile app to access your group benefits – or group retirement account(s) – on the go! The fresh, intuitive design helps you conveniently do many things with your account: Submit claims, use your benefits card (or download a copy of it to your phone), check medications to confirm they're covered under your plan, find lower drug cost options, and even locate health care providers near you (with their phone number, address, and link to a map).
Download Manulife Mobile today
Manulife Mobile is the only app you need to manage your group benefits and group retirement plans with Manulife. Use the same login information for your benefits app and/or retirement app that you use when signing in to your account(s) on our website. (Note: Dark mode is available on the iPhone for version iOS 13 and higher.)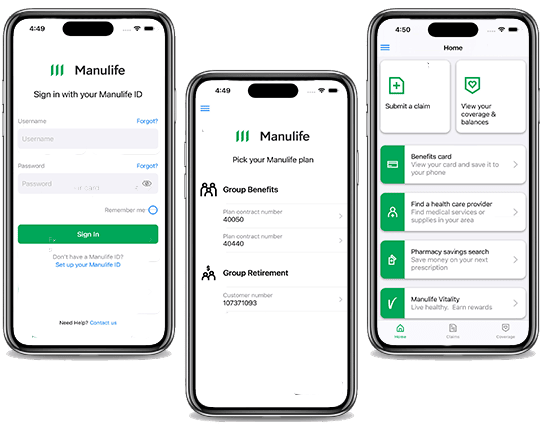 As a group benefits plan member, you can access your plan and undertake many tasks right in the app. Simply download the app and sign in.
You may be prompted to set up a Manulife ID when you sign in. You'll need to set one up. The Manulife ID is the same wherever you sign in for any and all Manulife accounts. For more information, we've created a support page for group benefits Manulife ID.
Once signed in to your plan, you can use the app to:
Submit your claims
Review recent claims, claims statements, and payment information
See your benefits balances
Download your benefits card
Find health care providers near you, with directions on how to get to their offices
Use the "Pharmacy savings search" on the app
Are you a group retirement plan member?
If you're a group retirement plan member, the Manulife Mobile app gives you access to that account as well – in addition to your group benefits plan (if your group benefits are with Manulife). When you sign in to your retirement account, you may be prompted to set up a Manulife ID. For more information about how to get started with the Manulife ID, we've created a separate group retirement support page to answer your questions.
If you have a group retirement plan with Manulife, the Manulife Mobile app makes it easier to keep an eye on your investments, whenever and wherever you are. Always know where your money's invested, review your transaction history, and monitor how you're tracking towards your goals.
Learn more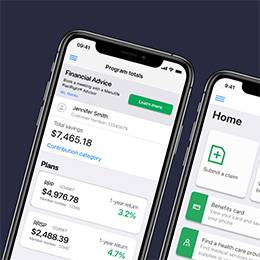 A picture's worth a thousand words, or so the saying goes. With that idea in mind, we put together four short videos to help plan members become familiar with the Manulife Mobile app. They cover topics members often need to know about when submitting a claim. Check them out to get some insight into how your group benefits app can make it easier for you to make or view your claims, confirm coverages and balances, even download a copy of your benefits card to your mobile device.
Getting started with the Manulife Mobile app
The 'Getting Started' video explains how the Manulife Mobile app lets you manage your group benefits plan anytime, anywhere. Using the app, you can submit claims, check your balances, download your benefits card, and more.
Available from both the Apple App Store and Google Play, the Manulife Mobile app lets you manage your plan from your mobile device.
To answer this question effectively, we would need to know, first, what you're looking to find out about your Manulife group benefits plan. Also, you would need to sign in to your secure online account to get answers that pertain to your particular plan.
To check what your benefit plan covers:
Your group benefits booklet, available online, sets out details about your specific plan. You may need to connect with your plan administrator to get a copy of your booklet (Note: Administrators sometimes include the booklet as part of a 'welcome package').

To check how much coverage you have left for the rest of the year:
Once you sign in, on the app click on 'View your coverage & balances', choose the family member, and the category (e.g., pharmacy, health, vision, dental). Next, choose the item you want to check to confirm any balance remaining for that item. (Note: The available balance is subject to various limits, maximums and fee guide limitations, as is the eligibility of each plan member and their dependants [if applicable]).
To check who's covered under your Manulife benefits plan:
When you signed up or registered for your benefits plan, at that time you would have included the names and birth dates of any family members you wanted covered under your group benefits plan. Once you sign in to your secure online account, those family members' names should appear as being covered.
If your family structure changes after that initial registration, you would need to update your profile with Manulife to include any new individuals under your group benefits plan.
To submit a drug claim using the mobile app, first sign in to your secure online account. Then, follow these steps:

Click on  'Claims' at the bottom centre of the app screen
Click  'New claim' in the top right corner of the app screen
Select the type of claim you wish to make (i.e., categories include health, wellness account, other medical, medical equipment, dental, other claims)
Continue to fill in the requested information (e.g., name, other insurance details, details about the expense)
Add any attachments to your claim (Note: Any invoice/receipt/prescription must include the patient's name, date of purchase or service, and any other requested information)
Click  'Next', then 'Submit'
On the Manulife Mobile app you can confirm if most drugs are covered by your plan* with our self-serve tool, located on the app home page. Simply follow these steps:
Sign in to your secure online account
Click on 'Pharmacy savings search (save money on your next prescription)' 
Choose the member name
Type the drug name into the search field
Choose the drug from the results that come up (including prescribed dose) (Note: the DIN number appears with each result)
Allow the app to access your location (once, while using the app, if you prefer) so it can search for nearby pharmacies that sell the drug
The tool will confirm if the drug is covered by your plan*, the estimated cost, and the estimated amount the plan will cover and the balance you may need to pay
The tool provides a list of pharmacies near you and, if available, the cost of the medication you are searching for at each one
Click on 'More' under the 'Plan coverage estimate' to find the Explanation of coverage and total drug price estimate.
* To confirm specific details about your drug plan coverage, please refer to your group benefits member plan booklet, located under the 'My benefits' tab. Or, reach out to your plan administrator to confirm your drug plan coverage.
Your Manulife user ID – or Manulife ID – is a new way to connect to and access your Manulife account(s) online. It's comprised of a username and password. It replaces the credentials used previously (e.g., plan number, member certificate number, password). Once you connect all of your Manulife accounts to your Manulife ID online, it's the only log in credentials you'll use for every account you have with Manulife.
Plan members will need to set up their Manulife ID and connect their group benefits account to that new Manulife ID. The same goes for group retirement members, who will also need to connect their group retirement account to their new Manulife ID.
You may be able to make a withdrawal, but that depends on the kind of plan you have. Also, depending on your plan, your plan sponsor would have established under what circumstances withdrawals are permitted, and under what specific terms.
We suggest you speak with your plan administrator and/or financial advisor if you're thinking about making any withdrawals. Keep in mind there are tax implications to consider when making withdrawals from any registered plans.