It can begin in an instant – a diagnosis. Then shock, and suddenly life starts to spin out of control. Most of us know someone who's suffered from a critical illness. The effects can be far-reaching. Worry. Time away from work. And the burden of unexpected costs.
If you, your spouse, or child become critically ill, you can have an extra layer of financial protection. It's called critical illness insurance. And you can get it through your group benefits plan.
What's critical illness insurance?
Critical illness insurance pays out a one-time cash amount for someone with a critical illness that is a covered condition under your plan. Once you have this money, you can use it in any way you wish.
For example, you may use it to:
help replace lost income
seek out treatment options
help pay off debt
hire a caregiver
buy specialized equipment
take time for family or other interests
A critical illness is commonly understood as a serious illness. These illnesses are common in Canada and across the world. Critical illness insurance only covers certain conditions. Here are the most common types of illnesses:
cancer
heart attack
stroke
multiple sclerosis
benign brain tumour
Make sure to check your benefits booklet for your coverage details.
Basic critical illness insurance
Your group benefits may offer critical illness insurance at minimal cost. This basic coverage can help bring another layer of financial protection for your family.
Optional critical illness insurance
You can buy this extra coverage as part of your group benefits plan if your employer offers it. Coverage typically starts at $10,000. But different plans offer different options.
You can get the full details online in your benefits booklet. For questions about what your plan offers and how much it costs, ask your plan administrator or human resources (HR) team.
You can insure yourself, your spouse, and your children, as long as:
your employer's plan offers the insurance
the person being insured meets your plan's rules for coverage
the person being insured is in good health
The options you can get from your group plan are usually cheaper than what you can find on your own. Average price is only pennies on the day, depending on the amount you choose.
Here are a few reasons why this coverage is worth it.
Choose how much you want – The choice of coverage is yours, starting at a minimum of $10,000. For the full details, see your booklet.
Use it however you want – A critical illness can lead to costs you weren't expecting. Flexibility can help you be ready.
Easy to pay for – The cost of this insurance just comes off your pay. No effort or action needed on your part.
Take it with you – If you leave your job or your benefits plan is cancelled you may be able to change it into your own critical illness policy.
Group critical illness insurance is available across Canada and may be offered through your employer's benefits plan. Check out your employee booklet or contact your human resources (HR) team for more information.
To check your benefits booklet, sign in at manulife.ca/signin, then under My benefits, click View benefits booklet
Extra support to keep an eye on your health
Health Service Navigator  
If you're insured with a Manulife critical illness policy, you and your family may be able to take advantage of Health Service Navigator's exclusive benefits, at no extra cost. Contact your plan administrator or check your benefits booklet for more information.
Learn more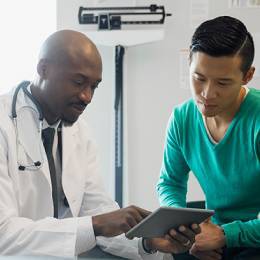 Applying is easy.
Decide how much insurance you want.
Check the cost and any coverage limits set for your plan.
Fill out and send us the application. You can find the forms to apply at manulife.ca/signin or through your plan administrator.
If you have any questions on how to apply or need to change your coverage, contact your plan administrator or human resources team.
Get started
From the Government of Canada