The Manulife Vitality program now offers
Vitality

Active RewardsTM with Apple Watch so you can enjoy rewards for active living! Become a Manulife Vitality member and get Apple Watch from just $17. Then fund the balance by tracking activities to earn Vitality PointsTM.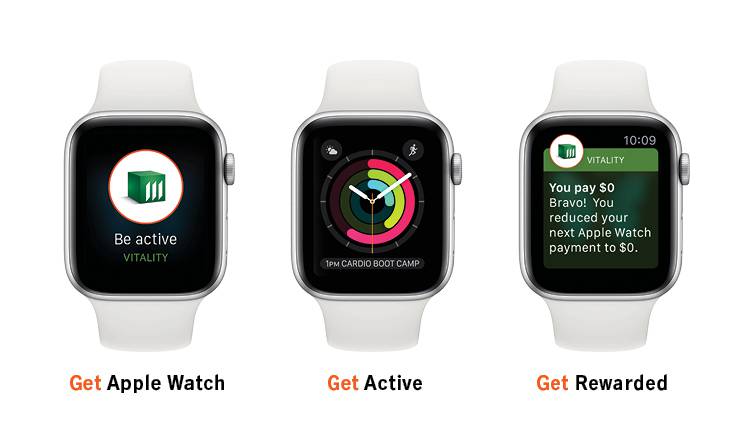 Once enrolled, you can:
1.  Get Apple Watch
Order Apple Watch online for an initial payment plus any applicable taxes and upgrade fees for case and band selections.
2.   Get Active
Track your monthly activity using Apple Watch* and the Manulife Vitality program mobile app to measure your activity and earn Vitality Points.
3.   Get Rewarded
The more points you earn monthly, the less you'll pay! You can pay as little as $0 each month when you reach your Vitality physical activity targets through Standard or Advanced Workouts.
Getting active pays off!
Your monthly payment depends on how many Vitality Points you earn each month, over a 24-month period.
Earn 500 points in one month and the cost is $0!

Apple Watch
Initial Payment*
Monthly Payment
0 Pts
240 Pts
360 Pts
500 Pts
Apple Watch Series 1
38 mm
$17
$13
$10
$6.50
$0
Apple Watch Series 3 (GPS)
38 mm
$39
$16.25

$12.50

$8.50

$0

* Initial payment does not include applicable taxes or upgrades which may include cellular models. Tax on initial payment is based on dollar value of Apple Watch. For Apple Watch Series 1 and Apple Watch Series 3 (GPS) an iPhone 5s or later with iOS 11 or later is required. For Apple Watch Series 3 (GPS + Cellular) an iPhone 6 or later with iOS 11 or later is required.
The Manulife Vitality program
We want you to live your longest, healthiest life. And we'll be by your side to support – and reward – your path to healthy living. With Manulife Vitality, living healthy is the key to greater savings and rewards.
Know your health
Improve your health
Earn rewards
How to earn points
It's simple, really. Set up your member profile, set your goals and get started. You could earn points for walking the dog, completing online nutrition courses and even completing a wellness screening – free of charge, anywhere you like!