Discover another Dimension
Dimensional Fund Advisors Canada ULC (Dimensional Canada), who sub-advises Manulife ETFs, is a pioneer in multifactor investing and one of the most well-respected money managers in the field today. Dimensional offers investment solutions built on the idea that combining specific factors, borne out by years of rigorous academic research, may produce better outcomes for investors over the long term.
Ideas rooted in academia
For more than 35 years, Dimensional has been translating compelling academic research into practical, real-world investment solutions. Dimensional has forged deep working relationships with world-leading financial economists and Nobel laureates – including Eugene Fama, Kenneth French and Robert Merton*.
In fact, much of the firm's approach is based on the ground-breaking academic research of Fama and French. Professor Fama has been credited as one of the fathers of modern finance and is a Nobel laureate (2013).
A belief in the markets
Dimensional's strong belief in markets frees the team to think and act differently about investing. Rather than relying on forecasting or trying to outguess others, the firm draws information about expected returns from the market itself – letting the collective knowledge of the market's millions of buyers and sellers set security prices.
Dimensional uses the information in market prices, combined with fundamental data, to systematically identify differences in expected returns among securities. The team at Dimensional takes a less subjective, more systematic approach to investing – an approach that's implemented consistently, even in challenging market environments.
In the words of one of Dimensional's founders, David Booth: "In this process, we have the best minds, the people that have developed the research that leads to these conclusions about our dimensions [factors]. We're very comfortable with our process and very pleased with the results we have achieved. The biggest beneficiaries of all this hopefully are the clients."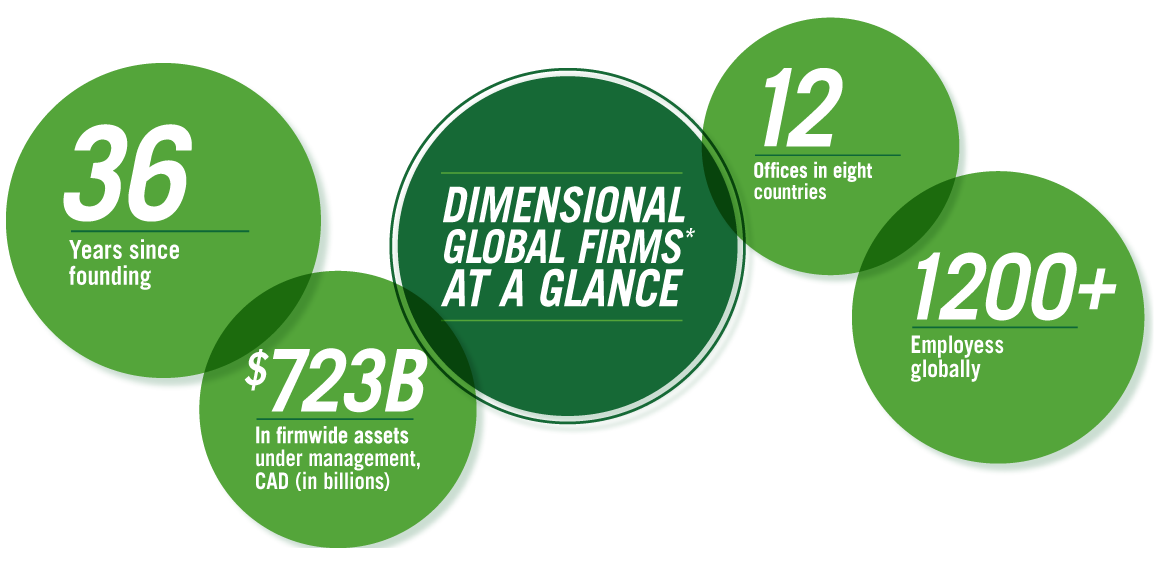 *As of December 31, 2017
Are Manulife ETFs right for you?
If you want:
A simple way to diversify your portfolio
A relatively low-cost solution
World-leading management expertise
A strong core part to your overall portfolio
...then Manulife ETFs may be a valuable option.
Ready to invest?
Speak to your advisor to discuss how ETFs can work in your portfolio
*Robert Merton provides consulting services to an affiliate of Dimensional Fund Advisors Canada ULC.
Eugene Fama and Ken French are members of the Board of Directors of the general partner of, and provide consulting services to, an affiliate of Dimensional Fund Advisors Canada ULC.
"Dimensional Fund Advisors" and "Dimensional" refer to the Dimensional separate but affiliated entities generally, rather than to one particular entity. Dimensional Fund Advisors Canada ULC is the sub-advisor to the Manulife ETFs. Neither Dimensional Fund Advisors Canada ULC nor its affiliates is affiliated with Manulife Investments or any of its affiliated entities. Dimensional Fund Advisors LP receives compensation from Manulife in connection with licensing rights to the Indexes. Dimensional Fund Advisors LP does not sponsor, endorse, or sell, and makes no representation as to the advisability of investing in, the Manulife ETFs.
Commissions, management fees and expenses all may be associated with exchange traded funds (ETFs). Investment objectives, risks, fees, expenses and other important information are contained in the prospectus, please read it before investing. ETFs are not guaranteed, their values change frequently and past performance may not be repeated.
Manulife ETFs are managed by Manulife Investments, a division of Manulife Asset Management Limited.