The HealthyMind program is designed to bring awareness to your mental and emotional well-being. You can now earn Vitality PointsTM for taking steps towards a healthier and calmer mind by adding mindful minutes into your daily wellness routine.
How it works
Earn 10 Vitality Points for recording 10 or more total meditation minutes per day for up to 500 Vitality Points per program year. You can earn your daily meditation minutes by using one, or multiple, of the supported meditation apps.
Supported meditation apps
Breathe (iOS only)
Headspace* (Android, iOS)
Buddhify* (Android, iOS)
Calm* (Android, iOS)
1. Choose & download your preferred meditation apps
2. Link your preferred meditation app to Apple's Health app or Google Fit
Connect to the Health App (iOS users)
Open the Health app and tap on your profile in the top right-hand corner
Under Privacy

, tap

Apps
Tap your meditation app
Enable the recording of Mindful Minutes
Connect to Google Fit (Android users)
Open your meditation app
Tap Settings and look for the setting that allows you to connect with other apps and devices. This may be called "Link other services", "Apps & devices"," Manage connections" or something else
Follow the onscreen instructions to link your meditation app to Google Fit
3. Allow Manulife Vitality access to read your Mindful Minutes from the Health app, or your Meditation Minutes from Google Fit
If you are an iPhone user
Open the Manulife Vitality app
Tap More  > Connect to the Health app
Allow Manulife Vitality access to your Health app information, including mindful minutes
If you are an Android user:
Open the Manulife Vitality app
Tap Menu in the top left of the screen
Tap Google Fit > Install Google Fit (if you have not done so already)
Follow the prompts to select your Google account and complete your connection.
4. Log 10 minutes of meditation to 10 Vitality Points per day
Once your app is linked with your meditation app(s), your Meditation Minutes will be recorded by the Manulife Vitality App. You will be awarded 10 Vitality Points for each day you complete a minimum of 10 minutes of meditation. These do not need to be consecutive minutes. The maximum number of points you can earn per program year is 500. That's 10 points for your first 50 meditation sessions every year.
Note: In order to ensure your meditation minutes are synced, we recommend opening your app at least once a week.
A special offer from Headspace
Headspace has joined Manulife Vitality to help get you started on your mindfulness journey. Manulife Vitality members can now benefit from a 30-day Headspace Plus trial**. Headspace Plus offers hundreds of guided meditations and exercises for stress, sleep, focus, movement and more!
Manulife Vitality members can access their 30-day trial by logging into their Manulife Vitality account.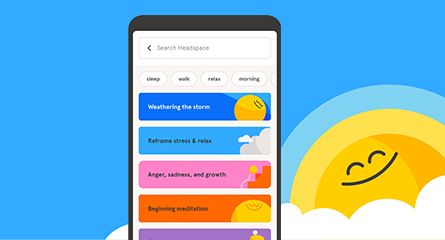 *Subscriptions fees or download fees may apply for unlimited access to third party meditation app.
** Headspace Plus is a subscription fee-based program, which gives access to more content within the app than the unpaid version. After the expiry of the free 30-day trial, the annual subscription renews automatically at $69.99 USD ($88.46 CAD — you will be charged in USD). You can cancel anytime at Headspace.com. Offer only available for new Headspace Plus subscribers.
Vitality, Vitality Points and HealthyMind are trademarks of Vitality Group International Inc., and is used by The Manufacturers Life Insurance Company and its affiliates under license.